Bollywood 'comedy show' taken off YouTube after row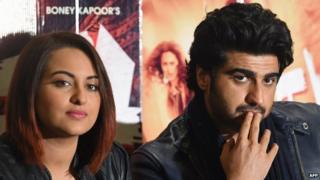 The producers of an Indian comedy "roast show" have taken it off YouTube after an intense row over its contents on social media.
Stand-up comedy group AIB recently invited Bollywood actors Arjun Kapoor and Ranveer Singh to its "comedy roast" filmed in front of thousands of people.
Right-wing groups and Twitter users objected to the show's "abusive jokes".
The programme was based on US-style roast shows where celebrities are abused and insulted.
Most celebrities take such insults in good humour and get a chance to get back at their "roasters" at the end of show.
Popular filmmaker Karan Johar hosted the show along with AIB members to question Kapoor and Singh.
In the video, the Bollywood actors can be seen laughing at the jokes and seem to have taken the "insults" in their stride.
Among the audiences were top Bollywood actresses Deepika Padukone, Sonakshi Sinha and Alia Bhat.
'Abusive language'
The three-part series got more than eight million views within days after it was uploaded on YouTube.
But the comedy group has now removed the series after several right-wing groups and Twitter users protested against its "below the belt" jokes and "abusive language".
The Maharashtra state government has said that it would look into the content of the show and take necessary action if needed, The Indian Express reports.
The AIB, which is popular for making funny videos about celebrities and current affairs, is also facing threats from Hindu nationalist parties.
Regional party Maharashtra Navnirman Sena (MNS) has asked the actors to apologise over the show.
The party added that it would not allow the films of these actors to be released in the state if they failed to apologise.
Twitter backlash
The show's content sparked several hashtags on Twitter.
Most people have used #AIBroast and ##AIBNationalShame to criticise the show.
'Master roaster' hits back
However, there is support for AIB in equal measure on Twitter.
Many see the pressure on AIB as an indication that some Indians are yet to take humour in their stride.
"Master roaster" Karan Johar was among the first few to hit back at those who criticised the show's content.
Sinha and Bhatt too joined their senior colleague to lash out at the critics.
Then there are others who think there are far too many serious issues in India to debate than a comedy show. Most of the supporters of the comedy groups have used #WestandbyAIBknockout hashtag.