Indian media: PM Modi seeks 'cooperative federalism'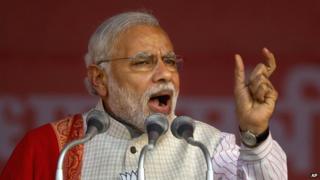 The media in India discuss Prime Minister Narendra Modi's focus on giving states more independence in running development schemes.
Mr Modi on Sunday discussed his government's development agenda with chief ministers of states at the first meeting of his new policy commission.
His government set up the new National Institution for Transforming India (Niti) to replace the socialist-era Planning Commission in early January.
The new organisation has been tasked to serve as a policy think-tank for the central as well as state governments with the PM as its chairperson.
Papers see the PM's focus on "cooperative federalism" as a part of his strategy to spark competition among states.
Mr Modi said he envisioned different states competing with each other in promoting governance initiatives, in a spirit of "cooperative, competitive federalism", The Economic Times reports.
It adds that the PM wants the federal government and states to come together to chart a common course to progress and prosperity with a focus on growth, investment and job creation.
The PM also talked about loosening the federal government's control over development schemes.
The Indian Express reports that Mr Modi has asked Niti members to ascertain how many of the 66 centrally sponsored projects should be shelved or transferred to states.
Bihar showdown
Staying with political news, Bihar state chief minister Jitan Ram Manjhi says he will not step down from his post despite a request from his Janata Dal - United (JD-U) Party.
Mr Manjhi was appointed as the eastern state's chief minister in May after his predecessor Nitish Kumar resigned from the post.
Mr Kumar had quit after his party's poor performance in the general election.
Media reports say that Mr Kumar now wants to "reclaim" his post, but he is facing resistance from Mr Manjhi.
"Even as JD(U) legislators backed Mr Kumar for the chief minister's post, Mr Manjhi said he would prove his majority on the floor of the house on February 19-20 and would step down if he failed," The Times of India reports.
Lost in transit
And finally, there is concern about an increase in missed flights at Delhi airport's largest and newest terminal after it was recently declared a public announcement-free zone, according to The Times of India.
As a result of the change, airlines at Terminal 3 can now no longer round up the tardy with last-minute boarding calls, and passengers are being found roaming the terminal's vast duty free area apparently unaware of their flight's imminent departure.
The main problem is first-time or infrequent fliers who fail to respect boarding-time advice and "take their sweet time" shopping, one unnamed airline official tells the paper.
According to another, the problem is a sign that mass air travel is still a relatively new phenomenon in India. "Silence zones work better in mature markets than India," the official is quoted saying.
BBC Monitoring reports and analyses news from TV, radio, web and print media around the world. You can follow BBC Monitoring on Twitter and Facebook.