Arvind Kejriwal meets India PM Narendra Modi after win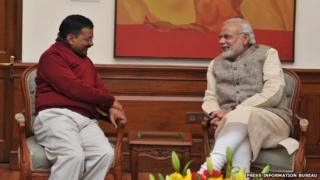 Indian anti-corruption campaigner Arvind Kejriwal has met Prime Minister Narendra Modi after his landslide victory in the Delhi state elections.
A spokesman for the chief minister-elect said Mr Modi had turned down an invitation to attend the swearing-in.
The Aam Aadmi Party boss is be sworn in at the Ramlila grounds on Saturday, and not in the assembly as is tradition.
The AAP won 67 of 70 assembly seats, relegating Mr Modi's BJP party to a poor second position with three seats.
The results came as a huge setback for Mr Modi, who led his Bharatiya Janata Party (BJP) to victory in last May's general election.
He has enjoyed huge popularity since taking office, winning a string of local elections and wooing international investors and world leaders.
Mr Kejriwal and his senior party colleague Manish Sisodia called on Mr Modi at his home in Delhi on Thursday morning and invited the prime minister to his swearing-in ceremony.
"The prime minister said he would not be able to come," Mr Sisodia told reporters after the meeting.
He said the meeting went well and federal and the state government "will work together".
---
Who is Arvind Kejriwal?
---
Soon after the Aam Aadmi Party (AAP) win, Mr Modi congratulated Mr Kejriwal and assured him of his government's "complete support in the development of Delhi".
On Wednesday, Mr Kejriwal met Home Minister Rajnath Singh and Urban Development Minister Venkaiah Naidu to discuss the issues facing the city, according to reports.
The AAP leader has invited all of Delhi to attend Saturday's ceremony at Ramlila Maidan - a huge ground in Delhi often used for political rallies and religious congregations.
"I'm not the chief minister, you are all Delhi's chief minister," Mr Kejriwal said.
He was sworn in at the same place when the AAP made a spectacular debut in the 2013 elections, although he resigned as chief minister after 49 days in office over an anti-corruption bill.
The AAP was born out of a strong anti-corruption movement that swept India three years ago.
The party was routed by the BJP in last May's general elections, months after its spectacular debut in the 2013 Delhi elections.