MSG Messenger of God: Indian critics pan guru film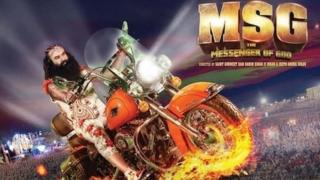 After weeks of controversy and months of publicity, a three-hour long film directed by and starring an Indian guru has finally been released.
Gurmeet Ram Rahim Singh's website says MSG: Messenger of God is a "movie which aims to spread social awareness in the society".
"While the whole story depicts the truth, yet action, suspense and drama are also being added to make it more interesting."
The head of India's censor board did not agree, and quit last month after her decision to refuse it a release on grounds that it "promotes superstition" was overturned.
The guru's critics have staged protests against the film, but his fans have been heaping praise on it. What did the critics make of it?
---
Sushant Mohan, BBC Hindi service: 'Bring on the painkillers'
The hall is full of Mr Singh's supporters who have come from different parts of the northern state of Punjab [where it was banned after protests by Sikh groups] to watch this film. Every time the guru appears on the screen, his supporters begin chanting and raising slogans.
At the start of the film, a disclaimer appears on the screen that the film is not trying to depict anyone as god, but every scene thereafter demolishes that disclaimer," our correspondent says, adding that "at the end of the show, you need to reach for a painkiller.
The film is like a long advertisement for the Dera Sacha Sauda sect of which Mr Singh is the chief.
---
Shilpa Jamkhandikar, Reuters: 'So bad, it's good'
Jamkhandikar advises you "to leave behind every ounce of common sense or sanity that you possess" if you go to see the film.
"The pot-bellied, hirsute hero who wears the most psychedelic clothes known to mankind can turn bullets into a crown, swords into rose petals, produce electricity from the palm of his hand; and while doing all this, gambol in meadows with bunnies as women dance in the background," she writes.
"MSG is an unabashed propaganda film, one that never tires of telling us that Gurmeet Ram Rahim Singh is God's own child who has been sent to earth to rid it of evils such as the drug and flesh trade.
"This is a movie that is so bad, it's good. It is horrifying and hilarious at the same time. So what do you get out of it? Three hours of disbelief plastered on your face that you cannot wipe off, no matter how hard you try. Go watch it if you want to get astounded."
---
Shubhra Gupta, Indian Express: 'Excruciatingly awful for non-believers'
Gupta says MSG is "fashioned cunningly like your old-style Bollywood pot-boiler, for the delectation of his vast number of fan-followers. It can also be called In Which Gurmeet Ram Rahim Singh Insaan Saves The World In 197 Minutes."
Gupta writes that it is like a 1970s-style Bollywood film, "starring the invincible hero, the sorry buffoon who is the butt of all jokes, the mandatory vaguely foreign-looking-and-sounding bad guy (this one looked a lot like Vin Diesel), and also, ta dsa, a blonde bimbette gushing all over the place (please, please, can I make a documentary on you, please, please, says she; he nods benignly, and she is in paroxysms)."
The film, however, is "excruciatingly awful only for non-believers. For his adoring followers, each scene is a super-hit".
---
Nandini Ramnath, Scroll: 'One-stop solution to world's problems'
Ramnath says the "180-minute propaganda exercise" celebrates Mr Singh as the "one-stop solution to the world's problems".
"The sight of Gurmeet Singh sailing through the air, single-handedly punching sword-yielding opponents, defusing a bomb, and repeatedly thwarting a Vin Diesel-lookalike who has been sent by the local drug mafia to kill the godman are actually not as preposterous as they appear.
"Why should Bollywood have the monopoly on the anachronistic use of cultural signs and symbols, songs that drag down a narrative, special effects-aided miracles and an ultra-macho and invincible hero who throws punches and punchlines? If [Bollywood stars] Ajay Devgn and Salman Khan, so can Gurmeet Singh."