India media praise thrilling cricket win against Pakistan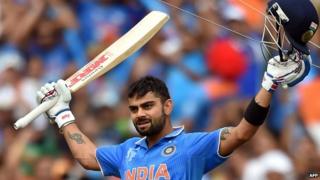 Papers are ecstatic over India's impressive win against Pakistan in their opening match of the cricket World Cup.
The defending champions beat their fierce rivals Pakistan by 76 runs on Sunday.
Virat Kohli made 107 and shared century stands with both Shikhar Dhawan (73) and Suresh Raina (74) to set a target of 301 at Adelaide Oval.
And papers are full of praise for the emphatic victory.
"Flying start, Men in Blue crush Pak," reads The Tribune's front-page headline.
The Hindu's lead headlines says: "India snaps Pakistan's will, yet again".
Such headlines reflect the pride that the nation of a billion people attaches to its sporting clashes with Pakistan.
---
---
"You expect a close contest in an India-Pakistan match, but none of the two teams or a die-hard fan on either side of the border would mind winning in whatever manner it comes. Sunday was one such day when India played like World Champions," says the Cricketnext.com.
Papers are also impressed with Kohli's remarkable inning in a high-pressure match.
"A contest against Pakistan entails more than cricket skills and how well did Kohli prove his qualities as a world class cricketer. Composure and stroke management made his innings classy," says the NDTV website.
The Times of India says Kohli "started off cautiously", but eventually found his form to help India set a formidable target.
"In the cauldron of the Adelaide Oval where India and Pakistan squared off for the sixth time in the World Cup, Kohli stepped up and played a magnificent innings that ensured the streak continued," it adds.
Kejriwal's challenges
Meanwhile, papers say Delhi's new chief minister, Arvind Kejriwal, needs to work hard to fulfil his poll promises.
He was sworn in on Saturday as chief minister after securing a landslide win for his Aam Aadmi Party (AAP).
The AAP won 67 of 70 seats in the state assembly, trouncing both the mainstream parties.
The Bharatiya Janata Party (BJP), which won a landslide in last year's general election, was reduced to three seats. Congress, historically the biggest party in Delhi, was wiped out.
"With his massive mandate and time on his side, Mr Kejriwal has no excuse not to deliver on his promise of a dream Delhi," says the Hindustan Times in an editorial.
The Times of India advises the AAP to refrain from expanding quickly in other parts of the country.
"The AAP lacks the resources to expand fast elsewhere in the country and would do well to focus on providing good and responsible governance to Delhi. For that it needs to take realistic measures to improve the lives of Delhi's people," it says.
The Indian Express says Mr Kejriwal needs to keep his officials grounded.
"For parties like the AAP, born in movement and agitation, managing and restraining the energies of cadres and supporters after the site of action has shifted from the street to the secretariat, is an enormous and pressing challenge," it says.
BBC Monitoring reports and analyses news from TV, radio, web and print media around the world. You can follow BBC Monitoring on Twitter and Facebook.