India media back Colombo's efforts to boost ties with Delhi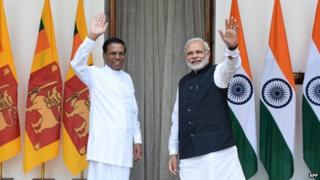 Papers praise visiting Sri Lanka President Maithripala Sirisena for focusing on improving ties with India.
Mr Sirisena met Indian Prime Minister Narendra Modi on Monday.
The two sides signed key agreements on trade and civil nuclear co-operation during Mr Sirisena's first official foreign visit since taking office.
Papers feel the new Sri Lankan president seems keen on reversing his predecessor Mahinda Rajapaksa's policy on forging closer ties with China.
"Under Rajapaksa China had emerged as Sri Lanka's largest foreign investor. With Sirisena now seeking a more neutral approach to foreign policy, India can leverage economic ties to its advantage," says The Times of India in a editorial.
The paper adds that Sri Lanka's business community will also benefit from closer Colombo-Delhi ties.
"On the economic front, Sri Lankan industry wants deeper economic ties with India. With Mr Modi declaring his intention to pursue balanced bilateral trade relations, this is a good opportunity to ramp up Indian investments in Sri Lanka," it adds.
The Tribune also back Mr Sirisena's pro-India policies.
"The new Lankan regime's revised set of priorities helped achieve forward movement on several issues. These include reviving the broad agreement reached on bilateral nuclear cooperation in 2012 and resolving to put the intermittent India-Sri Lanka-Maldives trilateral maritime cooperation on the fast track," it says.
The Indian Express advises Mr Modi to focus on narrowing the trade imbalance between the two countries.
"India is Sri Lanka's largest trading partner and Modi has expressed his support for a more balanced growth in trade. The bilateral trade imbalance in India's favour reflects Sri Lanka's inadequate export capacity, which India can help address through accelerated investments in the island," it says.
Nuclear deal
Some papers see the civilian nuclear agreement between the two countries as the most important outcome of the Sri Lankan president's visit.
"By signing the civil nuclear cooperation agreement with Sri Lanka during this visit, Mr Modi has given Mr Sirisena something to remember when he visits China later this year," says The Indian Express.
The newspaper welcomes "that New Delhi and Colombo have inked a civil nuclear cooperation agreement". It adds that the pact is a sign of trust between the two sides and carries strategic significance".
"At a time when Beijing is wooing Colombo, especially through projects such as the Maritime Silk Road, boosting people-to-people exchanges and connectivity between India and Sri Lanka makes strategic sense," it adds.
And finally, senior politician RR Patil, who was suffering from oral cancer, died at the age of 57 in Mumbai on Monday.
Mr Patil, who was a senior member of the regional Nationalist Congress Party (NCP), was the home minister of the western Maharashtra state during the 2008 Mumbai attacks.
He also held other ministerial positions in Maharasthra state during is long political career, reports The Hindu.
BBC Monitoring reports and analyses news from TV, radio, web and print media around the world. You can follow BBC Monitoring on Twitter and Facebook.