Why India's mobile users go offline for video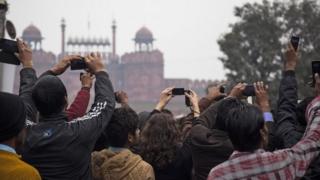 Shop number 17 in one of the busiest markets in Gurgaon, near the Indian capital, Delhi, looks unremarkable.
It sells odds and ends, and DVD discs, each with up to 10 movies of doubtful quality.
Asim Mandal, 26, a checkout clerk at a local retailer, is a regular. He pops out his phone's memory card, and gives it to the shopkeeper who swaps it for an identical 8GB card.
On the new card is a recent Bollywood film. It costs Mr Mandal 50 rupees ($0.81; £0.52) to get it on his smartphone and that is less than half of a movie-hall ticket. He also gets two older movies as a bonus.
The shop can be called a new-age video lending library where enterprising shopkeepers sell phone memory cards preloaded with movies and a few will swap them for your memory card if you are a regular.
Mr Mandal hopes to watch the new release on his hour-long metro train ride back to north Delhi, where he shares a room as a paying guest, and on the ride to work the next day. "It's a good deal," he says. "Though it's twice what I would pay back home in Bihar."
If the movie is good, it gets saved on his external hard disk, via his roommate's laptop loaned in return for a copy of the new release. Or, they might both watch it on the laptop, with cheap external speakers.
For his Micromax handset, which he bought for just over 5,000 rupees ($80) last October, Mr Mandal has a mobile connection with Edge (2G data) which is too slow for video. He bought the phone because he wanted a smartphone, mainly for using the messaging service WhatsApp and for watching videos off memory cards.
Like Mr Mandal, millions of Indians use their smartphones for consuming video and music offline, rather than downloaded or streamed online.
There are five very good reasons for it:
Smartphone explosion: India's smartphone base, now at 125 million, is growing two to three times as fast as its overall mobile base (about 920 million subscriptions) or satellite and cable TV (145 million set-top boxes), and is more than the number of TVs with DVD or media players attached. By 2016, India is likely to cross 200 million smartphone users, topping the United States as the world's second largest smartphone market, according to analyst firm eMarketer. Big drivers: WhatsApp, Facebook, and video entertainment.
Slow mobile internet: Of India's 255 million internet subscriptions, over 92% are mobile. But three-quarters of those mobile internet users - over 170 million - use a slow 2G or Edge connection, instead of 3G. There are only 15 million wired broadband users in India, according to India's telecom regulator TRAI's report of 29 January 2015.
The data cap: Mobile internet is expensive. Fast data plans have low "caps" - the maximum data they allow you under the plan. A typical Bollywood movie of good quality would be a 1GB download. A 3G plan from Airtel with a 1GB data cap is 249 rupees ($4). Compare that with the 116 rupees (less than $2) a month that the average Indian user spends on his mobile phone.
Few Wifi hotspots: Users prefer to download multimedia over cheaper and faster wifi. But most 2G-data users do not have access to cheap wifi, nor are they usually customers of the upmarket coffee shops with free wifi. A few cities - Bangalore, Pune, Kolkata (formerly Calcutta) - have some public free-wifi hotspots, but their impact is low.
The download problem: Even with occasional access to free wifi hotspots, Indian mobile users rarely watch streaming video, such as from YouTube. They prefer to download it, which isn't easy online.
Most videos on India's smartphones are unauthorised copies and the loss of revenue is not only for the film industry; mobile operators, too, lose data traffic revenue when videos are copied offline.
"We do get data traffic from video," says a manager at a leading mobile operator who does not wish to be identified because she is not authorised to speak to the media. "But it's mostly videos forwarded over WhatsApp, and some YouTube links shared over WhatsApp or email."
Operators are trying video offerings. Airtel's "Teramera" service lets you watch any of 35,000 short videos for a rupee (less than 2 cents). But they have no solution in sight for letting users watch or download movies off air.
Even if that changes, offline videos are likely to continue to dominate the small screens of India's mobile generation.
Prasanto K Roy (@prasanto) is a technology analyst in Delhi