India to probe Pakistan 'terror' boat claim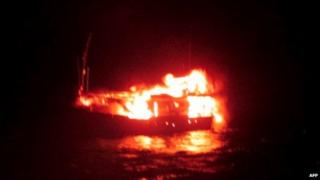 India's defence minister has ordered an inquiry after a Coast Guard officer claimed he ordered the destruction of a Pakistani boat carrying "suspected terrorists" on New Year's Eve.
Manohar Parrikar said Delhi stood by its earlier claims that the Pakistani crew blew up the boat to escape arrest.
The Indian Express newspaper broadcast video of the officer, BK Loshali, saying he had ordered the destruction.
He later said he was misquoted and that the report was not factual.
Mr Loshali is heard telling a meeting of Coast Guard officials: "I hope you remember 31 December night… we blew off that Pakistan… We have blown them off… I was there at Gandhinagar and I told at night, blow the boat off."
Mr Parrikar said he would discipline the officer if an investigation proved he had made the remarks.
India's defence ministry had earlier said in a statement that Coast Guard ships and aircraft had intercepted a "suspect" fishing boat on the night on 31 December near the maritime boundary of the two countries.
This followed intelligence that the vessel was planning an "illicit transaction" in the Arabian Sea.
The crew "set the boat on fire, which resulted in explosion and major fire on the boat" after the Coast Guard ship managed to stop the vessel after nearly an hour-long chase, the statement said.
Four people had been spotted on the boat, but they - and the vessel - could not be rescued "due to darkness, bad weather and strong winds".
Mr Parrikar later said there was "circumstantial evidence" that the boat had a "suspected terror link".