India media welcome PM Modi's promise on religious freedom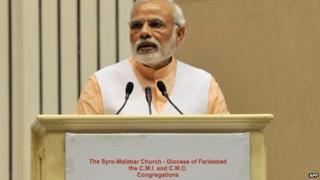 Papers welcome Prime Minister Narendra Modi's promise to protect all religious groups in India, but urge him to turn his words into "concrete actions".
Addressing a Christian audience in Delhi on Tuesday, he called on all religious groups to show restraint and respect.
Since December, five churches have been attacked, but this was the first time Mr Modi commented on the issue.
Critics say his Hindu nationalist BJP government is not doing enough to stop Hindu zealots targeting minorities.
Papers, however, feel that Mr Modi has done the right thing by breaking his silence on the issue.
"Mr Modi has done well to speak out publicly against religious intolerance. He must also openly counter BJP's ostensible well-wishers who undermine his development agenda," says The Times of India in an editorial.
The Indian Express also praises Mr Modi for trying to make India's religious minorities feel safe in the country.
"The PM's words are enormously welcome. It is not just that he has said what he chose not to, so far. It is also that by saying it so unambiguously, he has sent out a clear message: his government can now be held accountable if it does not ensure an environment that safeguards the freedom of faith for everyone," it says.
---
Religious strife
2 Dec 2014: Hundreds of Christians protest in Delhi after St Sebastian's Church is badly damaged in a fire
4 Dec: Minister Niranjan Jyoti uses an abusive term to refer to non-Hindus at a rally in Delhi
8 Dec: More than 50 Muslim families reportedly converted to Hinduism against their will in the town of Agra
7 Jan 2015: BJP MP Sakshi Maharaj sparks outrage by urging Hindu women to have at least four children "in order to protect the Hindu religion".
14 Jan: Church vandalised in West Delhi's Vikaspuri area
2 Feb: Church vandalised five days before Delhi assembly elections in Vasant Kunj area
---
Papers say Mr Modi must now follow up with strict actions against those who threaten the secular nature of the country.
"Promises are not enough. Mr Modi will now have to walk the talk: Take strong and visible action against all those disruptive elements in the Sangh who are trying to destabilise the country and systematically attacking the very idea of India," says the Hindustan Times.
The Times of India feels that development politics and religious intolerance cannot be practised together.
"Only by walking the talk on inclusive development and sidelining the extremist fringe can the NDA government repay the faith that people have reposed in it," it adds.
Swine flu deaths
In some health relates news, papers are concerned over the rising number of swine flu deaths in India, The Times of India reports.
More than 600 people have died from the disease since the beginning of this year, reports say
"In February alone over 300 died across the country. In 2014, 218 swine flu deaths were reported from a total of 937 cases, pan-India," the paper says.
Health authorities have advised people to take proper precautions to avoid the infection.
And finally, Bollywood actor Ashraful Haque, who was suffering from a bone marrow dysfunction, has died at the age of 45, The Indian Express reports.
The actor died on Tuesday.
Haque, who had acted in Bollywood movies, including 'Fukrey' and 'Traffic Signal', was also a theatre actor.
BBC Monitoring reports and analyses news from TV, radio, web and print media around the world. You can follow BBC Monitoring on Twitter and Facebook.