India media back PM's plan to boost defence production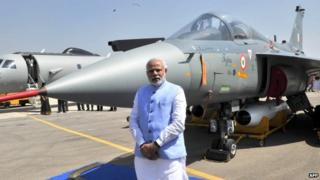 Media in India support Prime Minister Narendra Modi's idea of boosting indigenous defence manufacturing to cut import costs.
India is one of the biggest importers of arms in the world and buys equipment from several countries, including the US, Russia, Israel and France.
But the PM now wants to invite major defence firms to manufacture their products in India.
"To many of you, India is a major business opportunity. We have the reputation as the largest importer of defence equipment in the world. That may be music to the ears of some of you here. But, this is one area where we would not like to be No 1," he said on Wednesday.
Mr Modi said his "Make in India" initiative includes the defence industry as well. The plan is aimed at making India a manufacturing hub by making it easier for firms to do business in the country.
"That is why we are focusing on developing India's defence industry with a sense of mission. This is why it is at the heart of our Make in India programme," he said in Bangalore at the Aero India 2015 air show.
The Times of India supports Mr Modi's vision.
"Arms imports constitute approximately 60% of India's defence expenditure and Mr Modi is right that this is one area where we do not want to be number one," it says in an editorial.
The papers adds that "even a 20-25% reduction in imports could directly create an additional 100,000 to 120,000 highly skilled jobs in India".
The Pioneer agrees that a boost in defence manufacturing will create more jobs.
"This will not just save the country's precious foreign exchange but also have a spiralling impact on local employment, because greater manufacturing of defence material within the country will result in enhanced employment and skill-development among the youth," it says.
BBC Monitoring reports and analyses news from TV, radio, web and print media around the world. You can follow BBC Monitoring on Twitter and Facebook.