India arrests over energy document 'leaks'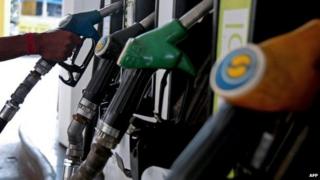 Police in India say they have arrested seven people for allegedly leaking classified government documents to energy companies for money.
Two government officials, an employee of a top energy company and two "middlemen" were held at the petroleum ministry's office in the capital, Delhi, on Tuesday, police said.
Two other men, both energy consultants, were arrested on Friday.
Reports said the leaked documents pertained to energy pricing and policy.
Delhi police chief BS Bassi told reporters they acted on "a tip-off" that some men were trying "to procure, obtain and steal official documents by trespassing into the offices of the ministry of petroleum and natural gas" in Delhi on Tuesday night.
"A trap was laid and three men were arrested from outside the office and official documents recovered from them," Mr Bassi said. Four others were arrested later.
'Intense lobbying'
Mr Bassi said confidential documents had been "stolen, photocopied and leaked" from the oil ministry in return for money and that investigators would soon arrest the "recipients of these papers".
"Confidential documents were leaked to certain independent consultants and energy companies, some of whom are being interrogated. We will analyse the documents that we have recovered and see if the Official Secrets Act needs to be invoked. More arrests are likely," he said.
Reports said the police were questioning nearly a dozen employees of at least five private energy companies and an energy consultant.
Petroleum Minister Dharmendra Pradhan said "strong action" would be taken against the employees of his ministry who were allegedly involved in the corporate espionage.
India imports 80% of its oil and 40% of gas for its rising energy needs. Its domestic energy industry - extraction of oil and gas and refining and marketing - is mainly controlled by state-run companies, although a number of influential private companies have an increasing stake.
"There is intense lobbying by private companies who would benefit from insider information on government decisions regarding the price at which energy would be sold to consumers," Paranjoy Guha Thakurta, an independent analyst, told the BBC.