India parliament to debate land law changes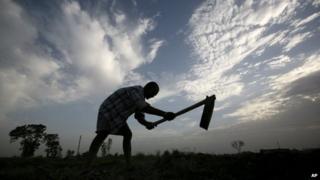 India's parliament has begun a budget session where the government is likely to face opposition over its decision to ease rules for acquiring land for infrastructure projects.
Officials say the move will kickstart hundreds of billions of dollars in stalled projects across the country.
Opposition parties say the new rules will be unfair to farmers and the poor.
Anti-corruption campaigner Anna Hazare has also begun a protest demanding the removal of changed rules.
Industrialists had raised concerns over a law approved by the former Congress party government last year which made it tough to acquire land from farmers.
In December, the Narendra Modi-led BJP government passed an emergency executive order easing some rules, including waiver of the "consent of farmers clause" for acquiring land for purposes of defence projects, national security, low-cost housing and rural infrastructure projects.
The executive order will lapse if not approved within six weeks after the beginning of the parliament session. The BJP and its allies are expected to encounter a hurdle in the upper house of the parliament where they are in a minority and need the support of opposition parties to pass laws.
"We won't be supporting an anti-people ordinance. We will fight to the finish," Sharad Yadav of the regional Janata Dal (United) party said.
Anti-corruption campaigner Anna Hazare has also begun a two-day protest in the capital, Delhi, demanding that the government withdraw the changes in the law.
Parliamentary Affairs Minister Venkaiah Naidu said the government was "open to constructive suggestions" and the land acquisition bill was needed "more to help the poor".
Correspondents say that with crucial state elections due over the next year, the BJP is likely to make some changes in the controversial law so that it is not seen as a party which is against the farmers.