Swine flu: India health minister urges calm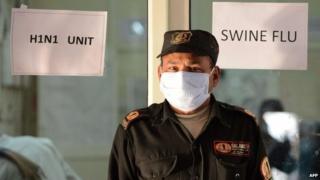 Indian Health Minister JP Nadda has urged the public not to panic, as the number of deaths so far this year from swine flu passed 900 from 16,000 cases.
Rajasthan and Gujarat are among the worst affected states.
Officials in Ahmedabad, Gujarat's largest city, have announced restrictions on public gatherings as a precautionary measure.
The current outbreak, which began in December last year, is India's deadliest since 2010.
Nearly 4,000 people have been killed in separate outbreaks of the H1N1 virus since 2009.
In Ahmedabad, officials have said weddings and funerals may take place but participants must wear protective masks.
The Gujarat state assembly's speaker and health minister both have swine flu. Some opposition politicians have criticised the government's response, describing it as a public health crisis.
Workplaces and schools have been open as normal but a charity walk and concert are among several public events in Ahmedabad which have been put on hold.
Organiser Kaushal Mehta said the walk was to have taken place on 1 March: "Around 5,000 [were to] walk for charity.
"However, due to swine flu and the prohibitionary order we have postponed the event. The experts have told us to wait."
Doctors believe that as temperatures rise during the summer the effect of the virus will subside, BBC Hindi's Ankur Jain in Ahmedabad reports.
---
What is swine flu?
A respiratory disease caused by a strain of the influenza type A virus known as H1N1, which first appeared in Mexico in 2009
Originated in pigs, but is now a human disease spread by coughing and sneezing
Symptoms similar to those produced by standard, seasonal flu - fever, cough, sore throat, body aches and chills
Vulnerable groups include pregnant women, children under five, the over-65s and those with serious medical conditions
---