India swine flu: How are people in Ahmedabad coping?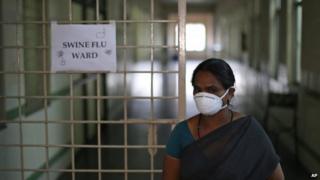 Health authorities in India have urged people not to panic amid a swine flu outbreak that has killed more than 900 people. At least 15,000 others have tested positive for the virus.
The western state of Gujarat is worst affected with 231 deaths and more than 3,700 infections.
So how are people dealing with the outbreak? BBC Hindi's Ankur Jain reports from Gujarat's largest city, Ahmedabad.
---
Restrictions on public gatherings
Officials in three Gujarat cities - Ahmedabad, Bhavnagar and Rajkot - have announced restrictions on public gatherings to contain swine flu.
The order prohibits gatherings of more than 10 people in an area under a law that has been invoked in the past during times of religious violence, including the 2002 anti-Muslim riots.
The restrictions this time are only for large public gatherings and weddings. Funerals and private parties are exempted.
But the order has left many confused.
Ahmedabad is known for its tea stalls and they are popular places for youngsters to hang out. But with the swine flu scare, people are not so sure.
"Hundreds of youngsters gather at this tea stall. We were unsure about whether the police would let us be here, but then we found out that restrictions were only for large events," Rajesh Patel, who meets his friends daily after work over tea, said.
"But if the flu spreads, we may not be able to gather here," he added.
---
Cancelled events
Religious and cultural events with thousands of participants are a daily affair in Ahmedabad, but swine flu has put an end to that for the moment.
Every year on 26 February, the city celebrates its birthday, but this time events like charity walks and music concerts are being cancelled or postponed.
"Our walk was scheduled for 1 March. We will announce new dates once restrictions are lifted and the flu scare fades out," says businessman Kaushal Mehta, whose event usually attracts 5,000 participants.
Doctors believe that as temperatures rise during the summer the effect of the virus will subside, but in the meanwhile, a few private schools and colleges have also announced "swine flu vacations".
---
Home 'remedies'
Many in Ahmedabad are using popular home remedies to keep the virus at bay although there is no evidence to show that they work.
Bindiya Shah has distributed more than 20 packets containing a mixture of camphor and cardamom powder to family members and friends.
"I got a message on WhatsApp about this homemade vaccine to prevent swine flu. I got the message from multiple sources and even from doctor friends, so it must to true," she says.
The mixture has to be inhaled frequently whenever a person is in a public place, Ms Shah says, adding that she has forwarded the message to more than 100 friends and most of them are using it.
---
Face mask and vaccine
Many residents have started wearing masks to their offices, while driving, or walking on the street.
"We have sold more than 200 masks in the last 15 days. A mask costs between 30 rupees [48 cents; 31 pence] and 200 rupees [$3.23; £2.08]. But there is a shortage so sometimes they are sold at a premium," says pharmacist Harsh Panchal.
"A special mask which can provide adequate protection against the virus, is not available and we are selling the regular ones, he added.
Doctors say there is also an "alarming shortage" of the swine flu vaccine.
"There is a huge shortfall in the supply of vaccines. The stocks at government and private hospitals are over. Pharmaceutical companies are trying to exploit the situation by creating a shortage. It is an alarming situation but in the coming days, the mercury will rise and the virus will lose its virulence," says Dr Hemant Patel.