Rajendra Pachauri: India bail for ex-UN climate chief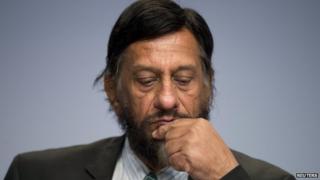 An Indian court has granted interim bail to former UN climate change panel head Rajendra Pachauri, who is facing charges of sexual harassment.
The court order bans him from leaving India or entering his office while police investigate the allegations.
A female researcher has accused him of sending her inappropriate calls, emails and texts and physically molesting her.
Mr Pachauri, who resigned from his post on Tuesday, denies the accusations. He is currently in hospital.
His lawyers say he is receiving treatment for a heart condition.
Police are investigating the complaint from the 29-year-old woman, who works in Mr Pachauri's office at The Energy and Resources Institute in Delhi.
His bail conditions, which apply until 27 March, also prevent him from entering his workplace.
Mr Pachauri, who had chaired the Intergovernmental Panel on Climate Change (IPCC) since 2002 and whose second term was due to end in October, has said his email account and mobile phone were hacked.
On Monday, he pulled out of a high-level IPCC meeting in Kenya because of "issues demanding his attention in India".
In his resignation letter to the UN secretary general on Tuesday, the 74-year-old said he might not be able to provide the "strong leadership and dedication" needed by the panel.
"I have therefore taken the decision to step down from my position as chair of the IPCC some months before completion of my term," he wrote.
In 2007, Mr Pachauri collected the Nobel Peace Prize on behalf of the organisation for its work in the scientific assessment of the risks and causes of climate change. The IPCC shared the award with former US vice-president and environmental campaigner, Al Gore.
In 2010 Mr Pachauri rejected pressure to step down when errors were found in the IPCC's Fourth Assessment Report.