Priyanka Chopra: Bollywood actress to play FBI agent in Quantico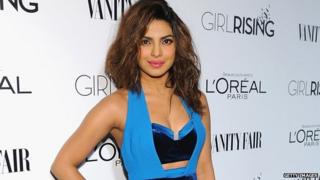 One of India's top Bollywood actresses, Priyanka Chopra, has been signed to play an FBI agent in the American television drama, Quantico.
Chopra, a former Miss World, has signed a one-year contract with the US studio ABC Network, reports said.
She has played the female lead in several hit Bollywood films, including Aitraaz, Krrish and Don.
She has been praised for doing unconventional roles in Kaminey, 7 Khoon Maaf, Barfi and Mary Kom.
Quantico, which is being shot for US network ABC, revolves around a group of young FBI recruits, each of whom has a secret motive for joining the bureau.
Chopra, 32, will play Alex, an agent whose past resurfaces soon after she arrives at the training camp.
She has been cast opposite Jake McLaughlin - currently seen in hit US TV show Believe.
In recent years, several Indian actors and actresses and others of Indian origin have been cast in popular US soaps, including Homeland, Newsroom, The Big Bang Theory, House of Cards and The Good Wife.
Chopra, however, is the biggest name from Bollywood to make her way to US television.
In a statement, she said: "As an actor I'm constantly challenging my creative capacity. I took a leap of faith when [casting director] Keli Lee asked me to join the ABC family, and I'm so excited to be a part of the pilot for Quantico alongside an incredibly talented cast and production team."
The actress, who previously attempted a singing career, will continue to make Bollywood films while filming Quantico.