India remembers its World War One dead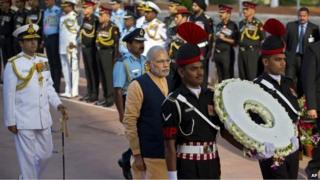 Events are being held to remember thousands of Indian soldiers who fought alongside the British in a key battle in France in World War One.
Prime Minister Narendra Modi placed a wreath at the India Gate memorial in Delhi on Tuesday, marking the centenary of the battle of Neuve Chapelle.
The army is holding an exhibition, recreating scenes from the conflict.
Britain and France have also organised events to commemorate the memory of the fallen Indian soldiers.
According to the Commonwealth War Graves Commission, about 1.1 million soldiers from undivided India - which includes today's India, Pakistan, Bangladesh and Burma - were sent to fight in World War One between 1914 and 1918 in France, Belgium, Egypt and the Middle East.
Indian soldiers earned more than 9,200 gallantry awards, including 11 Victoria Crosses, for their bravery. About 60,000 Indian soldiers were killed in the war.
Tuesday marks the centenary of the beginning of a major offensive the allied troops launched around the town of Neuve Chapelle in northern France and half of the attacking force was drawn from India.
"Inadequately trained for the ferocity of trench warfare, the Indian Corps nonetheless took part in most of the major battles on the Western Front, suffering huge losses and winning the first Victoria Crosses to be awarded to the Indian army," says Dr Santanu Das, who teaches at Kings College London and is an expert in the culture and literature of World War One.
"But alongside the trench experience, another deeper story was unfolding, the story of plebeian peasant-warriors making their way in a new continent - negotiating new peoples, cultures, customs, language and food - just as many of the local French and Flemish people were meeting these 'Oriental warriors' and their customs for the first time," Dr Das adds.
Most of the Indian troops who were sent to fight in Europe had probably never left home before and found themselves deployed in a land that was completely foreign to them.
"Six-and-a-half-thousand miles away from rural India onto the fields of Flanders and France - it would have been a totally different experience for them, it would have been exciting, as well as frightening for them to be here," says Avtar Dhillion, whose grandfather Dasaunda Singh died in the battle for Neuve Chapelle.
France is holding a series of events, including exhibitions, talks, guided tours and drama in Neuve Chapelle from 10 March.
---
A ceremony in London: Rani Singh, BBC News
A commemoration ceremony took place at the Memorial Gates in London on Monday, attended by 200 military personnel and guests.
The event was held just by Buckingham Palace - here, stand four impressive light Portland Stone pillars and four black cauldrons with flames burning brightly sit at the top of each one.
Wearing a bright red sari and black shawl, Baroness Shreela Flather, who was responsible for the construction of the Memorial Gates, welcomed former British PM Sir John Major, Commonwealth ambassadors and veterans.
Eric Pickles, Minister of State for Communities, Field Marshall Guthrie of Craigiebank, and Dr Richard Chartres, Bishop of London, all spoke before a Gurkha bugler played the Last Post.
There was a minute's silence, before The Lament, The Reveille, and then the laying of wreaths under a stone "chatri", or umbrella.
"More people, especially Indians, should acknowledge the contribution of Commonwealth soldiers to the War effort," Baroness Flather told the BBC.
---