Manmohan Singh: India ex-PM summoned in coal scandal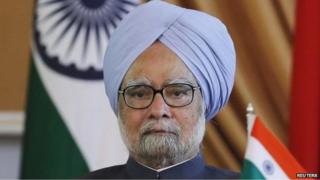 A court in India has summoned former PM Manmohan Singh over a corruption scandal involving coal mining licences.
Mr Singh and five others have been accused of criminal conspiracy and ordered to appear in court on 8 April.
In 2012, federal auditors said India had lost $33bn (£20bn) because coalfield rights were sold off cheaply.
Mr Singh, whose government ran India for a decade until last year, said that he was "open for legal scrutiny" and that the "truth will prevail".
"I will be able to establish my total innocence. Of course I am upset, but this is part of life," Mr Singh told reporters on Wednesday.
Last September, India's Supreme Court cancelled almost all the more than 200 coal mining licences awarded by the government since 1993, saying they were illegal.
The cancellation has implications for most of India's main political parties which governed the country between 1993 and 2010, including the Bharatiya Janata Party (BJP) which is currently in power.
Mr Singh's Congress party was in charge when most licences were allocated.
Known as one of India's cleanest politicians, the former prime minister has not been charged with any crime but is being investigated for criminal conspiracy, criminal breach of trust and corruption-related offences.
Wednesday's court summons relates to the allocation of a coal mining licence to Hindalco Industries in Orissa in 2005, at a time when he was prime minister and also held the coal ministry portfolio.
Mr Singh was questioned about the licence by the federal Central Bureau of Investigation (CBI) in January. Also summoned are Hindalco Industries Chairman Kumar Mangalam Birla and former coal secretary PC Parakh.
The summons came after a special court rejected the CBI's finding that there was no prosecutable evidence against Mr Singh or the other accused.
Hindalco declined to comment on Wednesday's court order. A spokesman for Mr Singh's Congress party said "we conducted ourselves with utmost probity and transparency, and the legal process will vindicate us".
Senior BJP leader and Environment Minister Prakash Javadekar denied there was any vindictiveness in pursuing the case.
"The courts do not operate under the BJP. They operate independently," he told reporters.
If found guilty, Mr Singh, 82, could be sentenced to jail for life, although correspondents say that is not likely.
India is one of the largest producers of coal in the world and more than half of its commercial energy needs are met by coal.
In its 2012 report into the sale of coalfields, the Comptroller and Auditor General (CAG) - the federal watchdog - said that private and state companies had benefited from the allocations.
Opposition politicians accused the Congress government of "looting the country" by selling coalfields to companies without competitive bidding.
Mr Modi's government has begun a process of re-auctioning the coal licences and says it hopes to recover the true value of the coal reserves.
---
Coal scandal timeline
1993-2010: 218 coal licences allocated by various Indian governments led by parties including Congress and the BJP
2012: Federal auditors say India lost $33bn (£20bn) because coalfield rights were sold off cheaply
September 2014: Supreme Court scraps 214 of 218 licences after finding they had been awarded illegally
October 2014: The new BJP government announces plans to re-auction the licences
January 2015: Central Bureau of Investigation (CBI) questions Manmohan Singh after court order
10 March 2015: Court summons Mr Singh
---