India media: Court summon against Manmohan Singh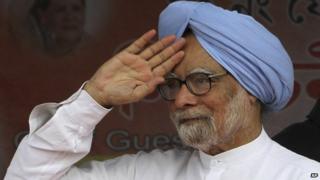 Media in India debate the political consequences of a court issuing summons to ex-PM Manmohan Singh over a corruption scandal involving coal mining licences.
Mr Singh and five others have been accused of criminal conspiracy and ordered to appear in court on 8 April.
In 2012, federal auditors said India had lost $33bn (£20bn) because coalfield rights were sold off cheaply.
Mr Singh, whose government ran India for a decade until last year, said he "will be able to establish my total innocence."
Papers say though Mr Singh headed a "corruption-tainted" government, his personal integrity was never in question.
"The Supreme Court verdict invalidating all coal block allocations made during the previous regime highlighted the administrative malaise that gripped its rule. Given the tenor of such verdicts, it was only to be expected that one day Dr Singh, as its Prime Minister, would be called upon to explain some transaction or defend a criminal charge arising out of it," says The Hindu in an editorial.
The paper, however says that "the onus is now on the court to prove that in its summons to the former prime minister, it holds Dr Singh not just politically accountable but personally liable".
The Times of India too says that no investigative agency has not been able to "disclose any money trail implicating Mr Singh".
"Mr Singh may have presided over bad policy, but that doesn't ipso facto amount to corruption, it says in an editorial.
The Financial Express also defends the former PM's clean image.
"Even Mr Singh's worst critics, who accuse him of extreme pusillanimity and allowing all manner of scams to take place under his watch, will admit to his reputation as India's most reformist finance minister and vouch for his personal integrity. So it has to be a sad day," it says.
'Sting operation'
Meanwhile, papers shine a spotlight on an alleged "sting operation" on Aam Aadmi Party (AAP) leader and Delhi Chief Minister Arvind Kejriwal by a member of his own party.
Rajesh Garg, former member of Delhi assembly, has released an audio clip of purported conversations between him and Mr Kejriwal from last year, reports say.
In the clip, Mr Kejriwal allegedly asks Mr Garg to "try and separate six Congress MLAs and ask them to form their own party and support the AAP from outside", The Indian Express reports.
After Mr Kejriwal resigned as the Delhi chief minister in February last year, he had promised to not form a coalition with the Congress Party.
Mr Kejriwal's party, however, swept the elections that finally took place in February this year, winning 67 out of 70 seats.
Observers say Mr Garg's accusation is a cause of embarrassment for AAP which has thrived on exposing political parties through sting operations.
It also comes amid growing factionalism within the party with many top leaders questioning Mr Kejriwal's style of management.
BBC Monitoring reports and analyses news from TV, radio, web and print media around the world. You can follow BBC Monitoring on Twitter and Facebook.