India court rules Greenpeace activist travel ban illegal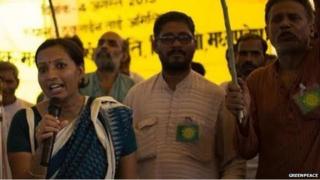 A court in India has ruled that the government cannot stop an activist of the global campaign group Greenpeace from travelling abroad.
Immigration officials had prevented Priya Pillai from boarding her flight to London in January.
She was to brief British MPs on how a planned coal mine by a UK-based company was threatening the livelihoods of local villagers.
The activist had said her "offloading" was "illegal and arbitrary".
Ms Pillai said she had a valid visa but was barred from boarding the aircraft by immigration officials who stamped her passport with the word "offload".
Earlier, the government told the court that Ms Pillai had been prevented from travelling because she was "involved in anti-national activities".
In its order on Thursday, the Delhi High Court also ordered the government to remove the word "offload" from Ms Pillai's passport, news channel NDTV reported.
"You cannot muzzle dissent in a democracy... Citizens can have different opinions of development policies," the High Court said.
Greenpeace has accused the government of trying to intimidate and bully the rights group.
The government argues that environmental groups like Greenpeace are blocking large development projects that are needed for India's economy to grow, the BBC's Sanjoy Majumder in Delhi reports.