Suzette Jordan: India anti-rape campaigner dies after illness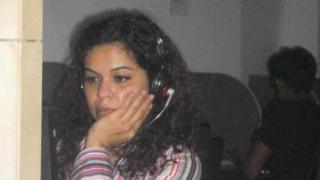 An Indian woman who waived her right to anonymity after being gang-raped in order to encourage other rape survivors to speak out has died in Kolkata.
Suzette Jordan, 40, had been suffering from a deadly form of meningitis, reports say.
The chief minister of West Bengal, Mamata Banerjee, had called Ms Jordan a liar after the February 2012 attack.
Her comments that she was trying to make the government look bad outraged both Kolkata residents and the media.
Ms Jordan, a single mother of two girls, was gang-raped on Park Street, one of Kolkata's busiest streets, after she came out of a night club.
She reported the crime to both the police and the media, speaking to journalists with her back to the TV cameras.
India's laws prohibit the disclosure of the identity of a rape victim and those guilty of doing so can be sent to prison for up to two years and fined.
'Refused to hide'
But in June 2013, she revealed her identity on news channels.
"I am tired of hiding my real identity. I am tired of this society's rules and regulations. I am tired of being made to feel ashamed. I am tired of feeling scared because I have been raped. Enough is enough", she had told the BBC.
"My name is Suzette Jordan and I don't want to be known any longer as the victim of Calcutta's Park Street rape."
Ms Jordan was working at the time as a counsellor at a helpline for victims of sexual and domestic violence.
Tributes have poured in for Ms Jordan on social media.
"In a country where rape victims hide their face in anonymity, where rapists remorselessly brag about their crime Suzette was one woman who refused to hid in darkness [and] who made us stop using the word victim and instead call her a survivor," filmmaker Anindita Sarbadhicari wrote on Facebook.
Three of the five men Ms Jordan accused of raping her were arrested and are on trial. They deny the charges. Police are still looking for the main suspect.