India government denies snooping on Rahul Gandhi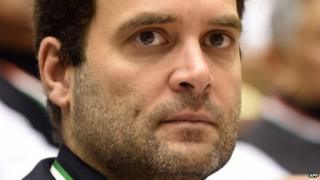 India's BJP-led government has denied allegations by the main opposition Congress party that it snooped on its vice-president Rahul Gandhi.
The row came after Delhi police visited Mr Gandhi's home in early March and asked security personnel questions about the leader.
Mr Gandhi, who is on leave of absence from parliament, was not at home.
The government said it was a routine security inquiry of a type faced by a number of BJP leaders in the past.
A newspaper report over the weekend said that policemen visited Mr Gandhi's residence earlier this month and allegedly asked questions about the colour of his hair and eyes and the clothes he wears.
There was uproar in the parliament on Monday, with the Congress accusing the BJP of spying on Mr Gandhi.
"Why does the police need to know his shoe size... is this the sort of spying that this government plans against political opponents?" Congress leader in parliament Ghulam Nabi Azad said.
The party said Mr Gandhi's security cover is managed by the elite Special Protection Group (SPG) commandos and wondered why the city police was inquiring into his details.
Senior minister Arun Jaitley said Congress was "making a mountain out of not even a molehill".
He said a previous Congress government, under the late prime minister Rajiv Gandhi, had in 1987 itself initiated the "profiling process for prominent politicians" that involved filling in a document as a part of a routine security drill.
Mr Gandhi, 44, is heir to the powerful Nehru-Gandhi political dynasty that has dominated Indian politics for decades.
He is currently taking a leave of absence from parliament which he says is to allow him to focus on party work.