Solar Impulse: Global flight leaves for India's Varanasi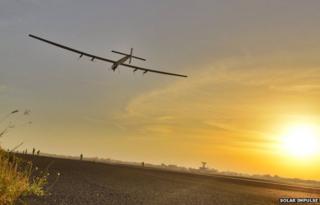 A fuel-free aeroplane has taken off from the Indian city of Ahmedabad city on the third leg of its historic attempt to fly around the world.
Solar Impulse-2's departure from Ahmedabad, where it landed last Tuesday from Muscat in Oman, was delayed by three days due to bad weather.
The plane is on its way to the northern city of Varanasi.
Over the next five months, the plane will fly across continents, crossing the Pacific and Atlantic oceans.
The single-seater plane, flying at an altitude of 5,180m (16,994ft), is expected to land in Varanasi after a 14-hour journey around 21:00 local time (15:30 GMT) on Wednesday.
Last week, Solar Impulse Project chairman Bertrand Piccard piloted the vehicle from Muscat to Ahmedabad, covering a distance of 1,468km (912 miles) - and set a new world record for a flight in a piloted solar-powered plane.
Mr Piccard is sharing the flying duties with project partner and CEO Andre Borschberg, who made the inaugural trip from Abu Dhabi to Muscat.
In Ahmedabad, the crew spent time campaigning on the message of clean technologies to the local people.
The Solar Impulse project has already set plenty of other world records for solar-powered flight, including making a high-profile transit of the US in 2013.
But the round-the-world venture is altogether more dramatic and daunting, and has required the construction of an even bigger plane than the prototype, Solar Impulse-1.
This new model has a wingspan of 72m, which is wider than a 747 jumbo jet and weighs only 2.3 tonnes. Its light weight will be critical to its success.
So, too, will the performance of the 17,000 solar cells that line the top of the wings, and the energy-dense lithium-ion batteries it will use to sustain night-time flying.