India and China hold talks on border dispute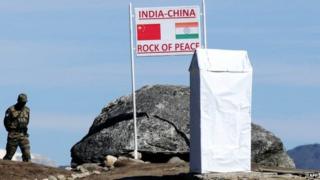 Senior Indian and Chinese officials are meeting in Delhi for talks aimed at resolving a contentious border dispute, the first discussions since Prime Minister Narendra Modi came to power.
China's special representative Yang Jiechi is in Delhi for talks with National Security Adviser Ajit Doval.
The talks are seeking to improve ties before Mr Modi visits Beijing in May.
The neighbours were involved in a bitter two-week stand-off near their de facto border in September 2014.
The two countries share an ill-defined 4,057km (2,520 miles) border and fought a brief war in 1962.
Tensions flare up from time to time and numerous rounds of border talks have been unsuccessful so far. The latest meeting in Delhi is the 18th round of boundary talks.
Since taking over as prime minister last summer, Mr Modi has spoken of his desire for better relations with China and called for an early settlement of the border dispute.
In September during his visit to India, Chinese President Xi Jinping said he was committed to working with India to maintain "peace and tranquillity".