Atal Behari Vajpayee: Former Indian PM awarded Bharat Ratna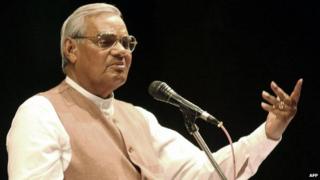 India has conferred its highest civilian award on former prime minister Atal Behari Vajpayee.
President Pranab Mukherjee visited Mr Vajpayee's home in Delhi to present the Bharat Ratna to the wheelchair-bound former prime minister.
The authorities announced the honour for the former leader of the governing Bharatiya Janata Party (BJP) a day before he turned 90 in December.
A two-term prime minister noted for his oratory, Mr Vajpayee retired in 2005.
So far, 43 people have been given the Bharat Ratna (Jewel of India). They include cricketer Sachin Tendulkar, musician Ravi Shankar, singer MS Subbalakshmi, film-maker Satyajit Ray, South African leader Nelson Mandela and former President APJ Abdul Kalam, who pioneered India's missile technology programme.
Prime Minister Narendra Modi also attended Friday's ceremony.
Mr Vajpayee, often described as the "moderate face" of his Hindu-nationalist BJP, enjoyed wider appeal than some of his more hardline party colleagues.
He served as India's prime minister for six years spread over two terms.
During his tenure as PM, he worked to improve relations with Pakistan and in 1999, took a historic bus journey to Lahore to meet then Pakistani Prime Minister Nawaz Sharif.
Since his retirement, he has kept out of the public eye and reports say he is in bad health.
West Bengal Chief Minister Mamata Banerjee was among politicians and others who took to social media sites to congratulate Mr Vajpayee.
Former Jammu and Kashmir Chief Minister Omar Abdullah, who was a minister in Mr Vajpayee's government, tweeted that it had been an honour to serve under him.
Journalist Rajdeep Sardesai described him as a "rare statesman-politician".