Rain misery for Indian farmers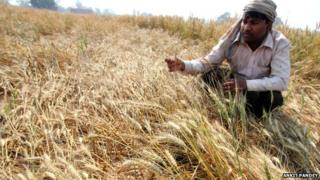 Unseasonal rains and hailstorms have destroyed crops in several parts of northern and western India. Small farmers are suffering the most in this crisis. Some of the affected farmers in northern Uttar Pradesh state tell their stories to BBC Monitoring's Vikas Pandey.
Ram Singh of Pratapgarh looks nervous and unsure about the future as he shows me the destroyed wheat crop in his farm.
He is one among many farmers in the district who are "devastated" because of the unseasonal rains.
"I was about to harvest this season's wheat crop. But the rains did not allow the grains to ripe and now I have nothing left. How would I recover my investment? How will I feed my children?" he asks.
Thinking I am a government official, his wife Prabha Devi asks me about compensation.
I introduce myself and the couple agree to sit down and have a chat with me.
"No government official has visited us so far. We are a small-time farming family and have no other source of income. I have three children to feed and send them to school. The future is looking bleak," Prabha Devi says.
The federal and state governments have recognised the problem and ministers have been touring the affected areas to assess the damage.
Media reports say that preliminary government data shows that about 3% of the crop has been damaged by the inclement weather.
Veteran journalist Shree Padre, who has been covering farming issues in India for more than 30 years, believes such crop losses have a far reaching impact.
"Such damage causes shortage of grains, pulses and vegetables and that increases food prices," he says.
For farmers like Ram Singh time is running out with no other source of income in sight.
"Son of the soil"
He says he may consider going to the city of Allahabad, about 370 miles from the national capital Delhi, to work as a rickshaw puller or labourer on construction sites.
"I don't have a choice. I don't want to go to the city. Farming is what I do and want to continue."
In the neighbouring area, I meet Vimla Devi. She says crops like wheat, pulses and vegetables have been completely destroyed in their area.
Vimla Devi and her husband have four children and they have to repay a 200,00 rupees (£2,166;$3,211) farm loan.
She breaks down while talking about the loan, but quickly recovers and gets busy in saving the remains of her crop. She says that the remains will be used as fodder for her cows and buffalos.
Issues like indebtedness, the future of children and precarious food security seems to be worrying every farming family.
"We are hearing that the government will give us compensation. I just hope we get it in time. I don't want to read any more stories of farmers in debt killing themselves," says Pappu, another farmer.
Indian papers have been reporting isolated cases of farmers killing themselves in the past two weeks.
'We feed the nation'
Many of these farmers own small plots of land and take loans from government for farming.
Vimla Devi and her husband Mithai Lal's loan has been giving them "sleepless nights".
"We farmers grow food and feed the rest of the nation, but small farmers are still poor in the country," she says.
Whose fault is that?
"I don't know whom to blame. We make enough to survive every year. But when bad weather hits us, we just want our government to take care of us. I hope you will tell them," she says.
Shree Padre says that it's difficult to protect farmers from unseasonable rains "because sudden weather changes are very hard to predict".
"But that doesn't mean we cannot do anything for these farmers. Authorities need to set up a crisis management cells and invest in modern farming technologies, like farming under shelters," he says.
'Not one but two countries'
Farmers who own land stand a chance to get government compensation and loan waivers if their crop fails.
But the story is very different for farm workers like Surfali.
She and thousands like her in the area don't have land, but work in farms owned by others to make a living.
"I work in fields of landlords to make money. My income peaks during the harvest season. But I have very little work this season," she says.
She adds that she doesn't want her children to become farmers.
A local journalist tells me that India "is not one but two countries". He says "when people were enjoying the weather in cities, farmers in rural India were holding their breath".
"You have to just come out of cities and talk to these farmers to know that," he adds.
BBC Monitoring reports and analyses news from TV, radio, web and print media around the world. You can follow BBC Monitoring on Twitter and Facebook.