India athlete dies after eating poisonous fruit in 'suicide pact'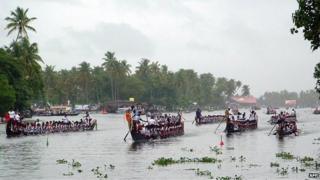 A 15-year-old Indian athlete has died and three others are in hospital after allegedly consuming poisonous fruit in what is suspected to be a suicide pact.
The girls ate othalanga, a local fruit, at the Water Sports Centre in southern Kerala state, reports said.
The girls, all rowers, were allegedly being harassed by senior athletes and their trainer, their families allege.
The government-run Sports Authority of India which runs the centre has ordered an inquiry into the incident.
"They had left behind a suicide note. The jurisdictional magistrate has also recorded the statement of one of them. The police investigation is also on," SAI (Sports Authority of India) director general Injeti Srinivas told reporters in Delhi.
SAI official G Kishore, who has been asked to conduct the inquiry, told BBC Hindi's Imran Qureshi that the condition of one of the girls admitted to hospital was critical while the other two were out of danger.
The athletes were taken to hospital on Wednesday evening after they were found unconscious in a room of their hostel.