India opposition leader Rahul Gandhi makes Twitter debut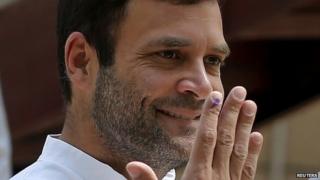 The office of Congress party vice president Rahul Gandhi has finally started a Twitter account to give updates on his official programmes and events.
The main opposition party has announced that people can now follow Mr Gandhi's political activities on @OfficeOfRG.
The account sent out its first two tweets on Thursday and managed to attract more than 22,000 followers.
Mr Gandhi, 44, is from the Nehru-Gandhi political dynasty that has dominated Indian politics for decades.
But he led his party to its worst performance in last year's general elections. Mr Gandhi had no social media presence throughout the campaign.
In contrast, Prime Minister Narendra Modi used social media platforms to connect with young voters and won the election with a comfortable majority in May last year.
The Congress party has suffered a series of state election setbacks since it lost power in May.
Almost a year later, Mr Gandhi's office appears to have realised the importance of social media platforms.
The leader, however, still has no personal account on Twitter.
Mr Gandhi account has been welcomed on Twitter with appreciation, humour and even questions.
BBC Monitoring reports and analyses news from TV, radio, web and print media around the world. You can follow BBC Monitoring on Twitter and Facebook.