India agrees Bangladesh land enclaves swap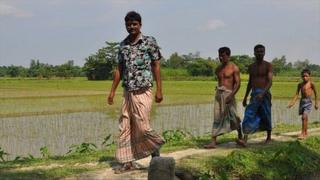 India's parliament has approved a key agreement with Bangladesh which will enable the two countries to exchange control of areas of land on each other's territory.
Tens of thousands of Bangladeshis live in 51 enclaves in India, while Indians live in 100 areas within Bangladesh.
The residents are in effect stateless and lack access to public services.
These enclaves are a legacy of colonial times and have been a contentious issue between the two nations for decades.
People living in Indian enclaves inside Bangladesh are officially Indian citizens and those living in Bangladeshi areas inside India are Bangladeshis.
Under the new agreement, more than 50,000 villagers from both sides will be given the option to choose where they want to live and which nationality they would prefer.
Chess game spoils
Folklore says the patchwork of enclaves resulted from a chess game between the Maharajah of Cooch Behar and the Nawab of Rangpur, two minor Indian kingdoms that faced each other, says the BBC's Anbarasan Ethirajan.
The rulers used villages as wagers and wrote the names of the villages on a small piece of paper - or chit - and exchanged them whenever they won or lost a game.
Locals say that is why these enclaves are called "chit mahals" or "paper palaces".
The issue was not resolved during the partition of the subcontinent in 1947, when India and Pakistan were carved out of British India.
Cooch Behar joined India and Rangpur went to Pakistan, including the people who lived in the enclaves. East Pakistan later became Bangladesh in 1971.