Satyam Computers: India court suspends B Ramalinga Raju sentence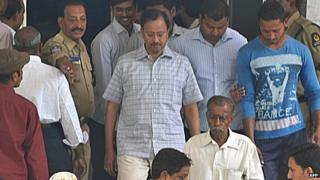 A court in India has suspended the sentence handed down to the former head of Satyam Computers over one of the country's biggest corporate scandals.
A lower court convicted B Ramalinga Raju last month of criminal conspiracy and cheating and sentenced him to seven years in jail.
The appeals court accepted the defence plea that he had spent 35 months in jail, a substantial part of his term.
The collapse of Satyam in 2009 cost shareholders more than $2bn (£1.3bn).
India's IT industry was rocked by what correspondents say was the biggest fraud at a listed company in India.
On Monday, an appeals court also granted bail to Raju, his brother and eight others who were found guilty of manipulating Satyam's books.
The men will appear in court on 30 June to appeal their sentences.
Raju was ordered to pay a personal bond of 100,000 rupees ($1,600; £1,000) while the others were asked to pay 50,000 rupees.
One of Raju's senior lawyers told AFP news agency that all 10 men were expected to be freed from prison on Tuesday.
Court papers filed by India's stock market regulator said that Mr Raju, along with 13 other friends and family, made about $400m in illegal wealth in the scam - by cashing in on a surging share price, offloading stakes in the company at a high price and making substantial profits despite knowing that accounts were overstated.
The scam, which had been going on for nine years, sent shockwaves across the industry.
Raju was arrested in January 2009 and jailed before being bailed nearly three years later. He also spent nearly a year in hospital being treated for hepatitis.
Satyam was one of the biggest players in the booming Indian software market. The jobs of 50,000 Satyam workers were only saved after the government intervened.
Another Indian firm, Tech Mahindra, bought a controlling stake in the company in April 2009.
Scandal timeline
January 2009: Raju resigns after admitting Satyam overstated profits for years. Company's stock suspended and government appoints new directors
February 2009: Federal CBI investigators take over investigation
November 2011: Supreme Court grants bail to Raju after the CBI fails to file charges in time
March 2012: Tech Mahindra and Mahindra Satyam announce plans to merge, creating one of India's biggest software companies
April 2015: Raju and nine others found guilty
May 2015: Appeals court suspends sentences of Raju and nine others