Indian media: Jayalalitha may play federal role after 'epic comeback'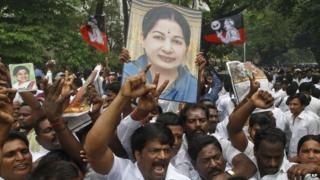 Papers say Indian politician Jayaram Jayalalitha has made an "epic comeback" after a court acquitted her in a corruption case on Monday.
A court in Karnataka state on Monday cleared the former chief minister of the Tamil Nadu of involvement in a corruption scandal.
She was convicted and sentenced for four years by a trial court in September last year.
She was found guilty of amassing unaccounted-for wealth of more than $10m (£6.4m) and had to quit as the chief minister of southern Tamil Nadu state.
But papers say that Monday's ruling means that Ms Jayalalitha can now make a re-entry as the head of Tamil Nadu government.
Ms Jayalalitha has been the chief minister of Tamil Nadu on four occasions and enjoys a cult status among her followers.
She had appointed O Panneerselvam as a "proxy" chief minister after she was convicted last year. Now, with her acquittal, she is ready to replace him and make another comeback.
"Beyond legal intricacies of the judgment absolving her, its biggest import will be to reinforce the legend of the omnipotent Amma (Ms Jayalalitha) among her supporters. She has been written off so many times before yet she has always bounced back," The Times of India says.
The Hindu agrees, saying "it is an unusual feat for any politician in the country to regain her eligibility to hold the post after being unseated twice as chief minister".
"Now that the conviction is set aside, Ms Jayalalitha can return as chief minister with complete political and moral authority," the paper adds.
Federal role
Her comeback is also likely to reinvigorate AIADMK party workers ahead of state elections in 2016 when they battle it out with the rival DMK.
"Now that she is back and cleared of all charges, she will waste no time in preparing for the assembly elections as the DMK had made some inroads in her absence. In the days to come, we can expect charges and counter charges from the AIADMK and the DMK," the Hindustan Times says
The Times of India says "her disqualification from holding electoral office…had opened up political opportunities for DMK".
The paper also adds that she will be a "major player" in coalition politics at the national level.
The Hindustan Times says the federal government will welcome the court verdict as "Ms Jayalalitha is said to be personally close to Prime Minister Narendra Modi and supportive of the NDA (National Democratic Alliance)'s policies".
Most papers, meanwhile, feel that Tamil Nadu suffered a lack of governance in the absence of Ms Jayalalithaa and her comeback will ensure the state is back on track
"The inauguration of the metro rail project was put off as also a crucial foreign investors' meet as Mr Panneerselvam wanted to wait till Ms Jayalalithaa was made chief minister again. The state which had excellent human development indicators had also slid in recent times," the Hindustan Times notes.
The paper is hopeful that "now that Ms Jayalalitha is back in the political fray with a bang, things will get moving."
BBC Monitoring reports and analyses news from TV, radio, web and print media around the world. You can follow BBC Monitoring on Twitter and Facebook.