Twitter backlash over PM Modi's 'insensitive remark' on migration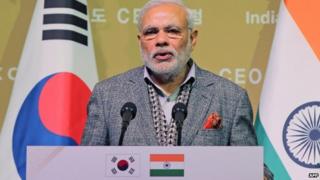 Indian Prime Minister Narendra Modi's remarks in South Korea about migration have sparked a Twitter backlash at home.
Speaking at an event on Monday, Mr Modi commented on Indians who decided to migrate to other countries.
"People used to think that what sin they committed in the last life that they were born in India. [They thought] what kind of country is this, what kind of government and what kind of people it has. Some just decided to leave for other countries," he said.
Mr Modi was highlighting the need to improve India's infrastructure and business environment to limit migration and also attract those Indians who want to come back.
The Indian PM has been vocal about highlighting India's problems in his speeches and statements.
In one of his earlier statements, Mr Modi said that India's head "hangs in shame" because of the increasing number of sexual assault cases against women.
But his latest remarks appears to have angered some Twitter users, resulting in a top trending hashtag #ModiInsultsIndia on Tuesday.
But there are others who think Mr Modi was right in highlighting the reasons behind India's brain drain.
Mr Modi on Tuesday finished a three-nation tour of China, Mongolia and South Korea.
He kept economic ties his main agenda in Seoul and Beijing and pledged to boost strategic ties with Mongolia.
But as one analyst said, #ModiInsultsIndia is not the kind of hashtag the PM was hoping to face on his return.
BBC Monitoring reports and analyses news from TV, radio, web and print media around the world. You can follow BBC Monitoring on Twitter and Facebook.