India floods: Monsoon rains kill two in Assam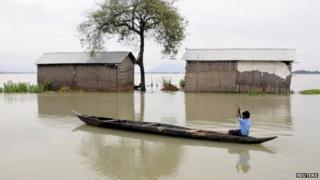 Authorities in the north-eastern Indian state of Assam say two people have died and more than 200,000 have been affected by flooding.
The state government said that over 500 villages in 13 districts of the state had been affected after early monsoon rains swelled the Brahmaputra river.
Floods are an annual occurrence in the region during the summer monsoon.
Assam has sufficient food stocks and medicines to cope, its revenue and disaster management minister said.