India housing.com site defaced by hackers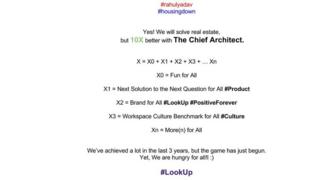 One of India's biggest e-commerce sites has seen its website defaced after the recent sacking of its founder-CEO.
Online real estate agency housing.com now displays a message saying #RahulYadav and #housingdown - a pun on the site's slogan "look up".
Its CEO Rahul Yadav, who had lately made a name for himself as the "bad boy of start-ups", was asked to leave after a string of infractions.
The firm was valued at $250m (£161m) in 2014 after Softbank bought a 30% stake.
#Housing has begun trending in India since the hacking was made public on Monday.
It is not clear as to who is behind the hacking attack, and the company has not made any official statement so far.
But Twitter pundits are putting their money on Mr Yadav himself - a charge he has denied.
On his Facebook page, Mr Yadav said he was not involved with the attack.
The site was briefly back online, but was down again at the time of writing this post.
Indian sites are frequently attacked - in March the government said in parliament that more than 700 government websites had been hacked by cyber criminals since 2012.
---
Five major Indian sites that have been hacked
The Board of Control for cricket in India: The website for India's cricket board was hacked in 2014. Indian news channel NDTV reported that the site's "About Us" page had an image of the Bangladesh national team with the message "Don'T MesS UP WitH TiGeRs !"
---