India police face fire for arresting couples in hotel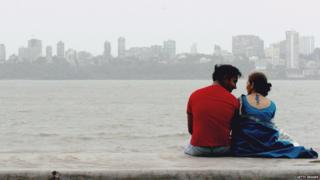 India's newspaper commentators and social media users have been criticising the Mumbai police for rounding up and arresting couples from a hotel over their alleged "indecent behaviour".
The police "raided" several hotels last week arresting more than 20 couples.
Several media outlets reported that the couples were "humiliated" during the raid which is being described as an act of "moral policing" and as an "attack on people's bedrooms."
Media reports also suggested that several couple were "shattered" after the raid.
"I haven't been able to step out of the house and my parents have also not spoken a single word to me since this morning... I am not a prostitute. I am an adult who was out with my fiancé, who I am supposed to marry next month, to find some privacy," a 19-year-old girl told the Mid-Day newspaper.
Mumbai Police Commissioner Rakesh Maria has ordered an inquiry into the raid.
"If two adults are inside a hotel room with their consent, then it is none of our business," he told a newspaper.
But police officials said that they acted because they had received complaints from the residents of Aksa Beach area about "acts of public indecency" in some hotels.
Experts say that under Indian law the police can arrest people for "indecent behaviour" in public spaces, but hotel rooms are private areas.
"There is no law that forbids an unmarried couple from checking into a hotel together," argues an article in the Mint website.
'Unethical raid'
Other newspaper commentators have also criticised the police "heavy handedness" in the raid.
"Sharing a room with someone you love is not a crime, even if you are not sanctified by the institution of marriage. In fact, share a room with whoever you please, for whatever purpose - as long as all participants are consensual, it cannot be treated as a crime," an article in the Business Standard daily said.
The Indian Express saidthe police were wrong to ask people "what they were doing in bedrooms inside lodges".
"The manner in which the raids were conducted indicated the prejudices and the morals held by the Mumbai police. All the women, for instance, were forced to prove they were not 'prostitutes'," it said.
Social media users have also been highly critical of the "unethical" raid.
However, some Twitter users, like ruling BJP party's Shaina NC, defended the police force's action.
BBC Monitoring reports and analyses news from TV, radio, web and print media around the world. You can follow BBC Monitoring on Twitter and Facebook.