West Ham's Aditi Chauhan becomes India's first woman to play in England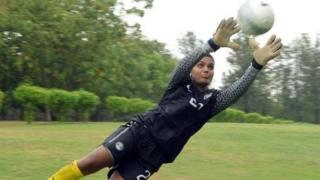 India's Aditi Chauhan has become the country's first woman to play English league football.
Chauhan, the India international goalkeeper, made her debut for West Ham United in the opening game of the season against Coventry City on Sunday.
West Ham play in the Women's Premier League Southern Division - the third tier of women's football.
Chauhan's debut has created widespread interest in Indian newspapers and on social media.
Scores of people have begun congratulating her on Twitter, including the Indian football team and her former club FC Goa.
Meanwhile West Ham jokingly asked what percentage of the Indian population it needed to reach 20,000 followers before admitting it "lost count". It also won over Indians by tweeting in Hindi.
It had earlier announced Chauhan's selection on Twitter as a "proud moment for Indian football".
Chauhan's debut could have gone better as West Ham lost 5-0 to Coventry.
"I'm not happy about the result. I could have played better. But of course I have watched the West Ham men's team on television and it was like a dream come true when I donned their jersey with the same logo", she told the Times of India newspaper.