India landslide kills seven in Sikh shrine, many trapped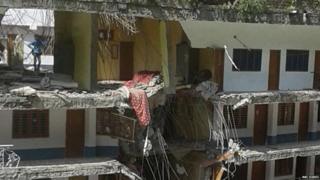 A landslide in the northern Indian state of Himachal Pradesh has killed at least seven people and injured eight others after boulders dislodged and fell onto a Sikh shrine.
A part of the shrine collapsed and many are feared trapped under the rubble.
Rescue operations have been taken up on a "war footing", police officials told BBC Hindi.
Officials said the main shrine, which attracts thousands of pilgrims, was not affected.
The damaged portion of the Manikaran Sahib gurudwara, in the state's Kullu region, has been cleared of all pilgrims and the injured have been taken to hospital, police said.