Should India's Jains be given the choice to die?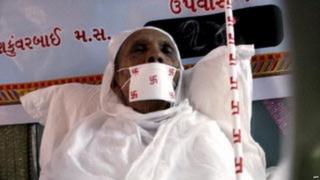 "You have to understand that for us death is full of excitement. You embrace sallekhana not out of despair with your old life, but to gain and attain something new. It's just as exciting as visiting a new landscape or a new country: we feel excited at a new life, full of possibilities," a Jain woman monk tells writer William Dalrymple in his book Nine Lives.
Jainism is one of the world's most ancient religions, and Jain monks lead a life of extreme austerity and renunciation. Sallekhana or santhara is a controversial religious practice in which a Jain stops eating with the intention of preparing for death. It is seen as the ultimate way to expunge all sins and karma, liberating the soul from the cycle of birth, death and rebirth.
So when Dalrymple probes further, the monk says that sallekhana is a ritual fast to death which Jains regard as the "culmination of our life as ascetics". She insists it's not suicide.
"It is quite different. Suicide is a great sin, the result of despair. But sallekhana is a triumph over death, an expression of hope... With suicide, death is full of pain and suffering. But sallekhana is a beautiful thing. There is no distress or cruelty," she tells the author.
A court in India doesn't quite believe so.
Earlier this month, the high court in Rajasthan, responding to a nine-year-old public interest petition by a lawyer, ruled that the authorities should treat the centuries-old practice as attempted suicide and its abetment, both of which continue to be, controversially, punishable under Indian law. Euthanasia is also outlawed in India.
The judges said that no religious practice, whether essential or non-essential or voluntary can permit taking one's own life. The court asked the state to "stop and abolish" the practice of sallekhana in Jain religion in any form. "Any complaint made in this regard shall be registered as a criminal case and investigated by the police," the judges said.
This has predictably raised the hackles of the Jain community. Poonam Chand Bhandari, a lawyer and a Jain himself, has filed a petition in the court against the judgement arguing that the practice is a "sublime, pure and pristine way of renouncing the world without any rancour towards anyone".
"It is neither self-destruction; nor it is a forced death. Death is inevitable; it is a universal truth. In case of santhara, there is a spiritual purpose - it is for self-purification, for self-realisation, and for the uplift of soul," says Mr Bhandari.
"In case of sallekhana the purpose is self-purification; purity of soul; it is for penance. Its purpose is purely spiritual, which does not come under the domain of the law."
By one estimate up to 300 Jains die annually across India in such fasts - their deaths are usually celebrated publicly by the community. One report says close to 400 Jains have taken sallekhana in two neighbourhoods in the western city of Mumbai in the past seven years.
There are more than four million Jains in India, mostly in the states of Rajasthan, Gujarat, Madhya Pradesh and Karnataka. According to Mr Bhandari, most of the community members who fast to death are in advanced age, and are often suffering from illnesses. His own mother, he says, stopped eating and drinking water and died peacefully, aged 86. But the woman monk in Dalrymple's vivid report says her friend decided to take sallekhana at the age of 36 after falling ill, first with tuberculosis and then malaria.
Fasting is not uncommon in other religions - Muslims go without food and water during the holy month of Ramadan, Christians fast during Lent, Jews go without food during Yom Kippur and Hindus fast on various occasions. But none of the religions sanction fasting to starvation - and death.
Opponents say sallekhana is a fundamental breach of the Indian constitution, which guarantees the right to life - but not death. So does the practice have any place in modern society?
Shekhar Hattangadi, who made a documentary on the subject, says the controversy is a reflection of the conflict between India's colonial-era criminal laws and its faith-based society. "The concept of suicide associated with religion is a repugnant one for the mainstream Anglo-Saxon West, whose Judeo-Christian beliefs would denounce such an act as antithetical to the moral and ethical principles espoused by Christianity," he writes.
Others like leading academic Pratap Bhanu Mehta echo a similar sentiment. Mr Mehta says the Jaipur court ruling "goes against the identity of a religion whose central tenet is reverence to life, and it is a practice whose harm, in most cases, is not obvious".
Mr Mehta says the Jains do need a conversation on the conditions under which santhara should be permitted. But the state, he argues, cannot expound on death alone. "It is one thing for the state to protect life and promote justice. It is another to colonise the various ways in which death can be interpreted, and life be given meaning. Unfortunately, the [Rajasthan] judgement just does that."
I think Jains would agree with Japanese writer Haruki Murakami. "Death was not the opposite of life," he wrote. "It was already here, within my being, it had always been here, and no struggle would permit me to forget that."