India's Haryana sets up all-women police stations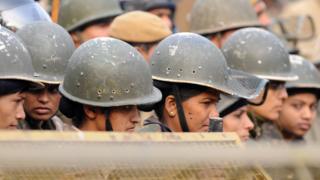 On Friday, the northern Indian state of Haryana inaugurated all-women police stations to deal with crimes against women in all its districts. The BBC's Geeta Pandey reports from Gurgaon.
A two-storey building in Sector 51 of this bustling city is being given a fresh coat of paint; lights and fans are being fitted; phone lines are being installed; and new curtains, computers, stationery and water-coolers have been ordered.
The building - until recently the office of the traffic police - is where Gurgaon's first all-women police station will be inaugurated on Friday.
"It will be a one-stop shop for women," Gurgaon police commissioner Navdeep Singh Virk told the BBC.
"We have identified the personnel - the 27-member police team will be headed by an inspector. We will have workers from non-governmental organisations and counsellors and we will provide legal assistance and help with rehabilitation too. A 50-member contingent of anti-riot policewomen will also be based there and used in law and order situations."
Inspector Umesh Bala who has been chosen to lead the women's police station in Gurgaon has impressive credentials - a police woman for 30 years, she has done long stints dealing with crimes against women and also supervises a telephone helpline started by the police to help women in distress.
She appears to have the right attitude for the job too.
"Most of the complaints we receive here from women are about sexual harassment and stalking. The accused men often tell me 'she was my friend'. And I tell them 'but now she is not, so lay off. She is not your personal property'."
Gurgaon, described as India's "millennium city", has in recent years been transformed from farming fields to a bustling technology hub and is home to corporate offices, call centres and outsourcing industries.
But attitudes are slow to change and most parts of the state remain rural, where tradition and modernity - filtering in from proximity to places like Gurgaon - sit in a tight, sometimes uneasy, embrace.
The state, like much of north India, is steeped in patriarchy - it has the worst sex ratio in the country where caste and gender discrimination are rampant.
And crimes against women have remained consistently high - according to the National Crime Records Bureau, the state recorded 8,974 cases of crimes against women, including 3,501 cases of dowry harassment, 1,174 rapes and 230 gang rapes.
In March, the state government was heavily criticised in the assembly with opposition parties expressing concern over women's safety.
And reports say police behaviour has failed to inspire much confidence - in April, the National Commission for Women said it had received hundreds of complaints of police apathy where women victims had failed to get their complains registered.
India's police force is drastically short of women. According to a recent report by the Commonwealth Human Rights Initiative, women make up only 6.11% of India's 2.3 million police force.
Gurgaon commissioner Mr Virk agrees the shortage is a huge problem: "There are only 350 women police in Gurgaon, we need at least 1,000."
But, he believes that the new women-only police stations will help change the perception that police are gender-insensitive.
Inspector Bala agrees: "At present, a lot of women do not want to go to the police station. They feel more comfortable telling us about their problems, they can talk to us without shame or guilt."
In her earlier roles, she says, she was often approached by women who insisted that she investigated their complaint.
"But I could take up a case only if it was assigned to me. Now things will be different."