India outrage over linking Sunny Leone condom ad to rape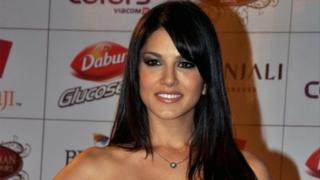 An Indian politician's comment that a condom advertisement with a well-known porn star will lead to a rise in rapes has caused outrage on social media.
Atul Kumar Anjan of the Communist Party of India told a rally on Tuesday that ads starring Sunny Leone should not be shown on TV and newspapers.
The remark has also been criticised by women's groups for being ignorant.
In the past, politicians have blamed tight jeans, short skirts and even spicy noodles for a rise in rape cases.
Rape has been in the spotlight in India since December 2012 when a 23-year-old student was brutally raped on a bus in the capital, Delhi. She later died from her injuries.
Indo-Canadian Sunny Leone, who has starred as the lead in several Bollywood films in the past few years, has a massive fan following in India.
"If condom ads like this are shown on Indian television and in newspapers, then rape incidents will rise," reports quoted Mr Anjan as telling a rally in the northern state of Uttar Pradesh. "This must be stopped."
The comment caused anger on social media with many taking to Twitter to ridicule Mr Anjan.
Women's activist Kavitha Krishnan criticised Mr Anjan's remarks in a Facebook post.
"Comrade - rape is caused by men's sense of entitlement and lack of concern for women's autonomy and consent. Not by pornography, naked women or any other 'provocation'," she wrote.
Mr Anjan has now apologised to Ms Leone's supporters, but said he still did not approve of the ad.
"Sunny Leone's condom advertisements are vulgar and I would continue to oppose them," The Times of India quoted him as saying.