How an art school is helping slum children in Delhi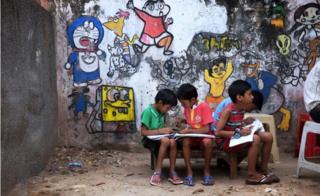 "The parents used to tell me, you're wasting your time, colouring on paper doesn't put food on the table," Rangamma Kaul, an art teacher in the Indian capital, Delhi, tells AFP news agency.
That was 20 years ago when the 51-year-old teacher, who has a degree in fine arts, launched her art school for slum children in Nangloi in the western part of the city.
Today her school has up to 60 students, taking lessons in drawing, painting, and clay modelling, although many parents are unsure of how art can help their children get jobs.
Housewife Sunita Nigam, whose husband earns 6,000 to 7,000 rupees ($110; £70) a month at a slipper factory, said she wants her son Shlok, to keep taking the classes.
The more skills, Nigam reasons, the better his chances of fighting his way out of poverty.
"I want my son to paint, to draw like others. I want my child to do everything, to grow up and become a doctor".