Pakistan singer Ghulam Ali's India show cancelled after protests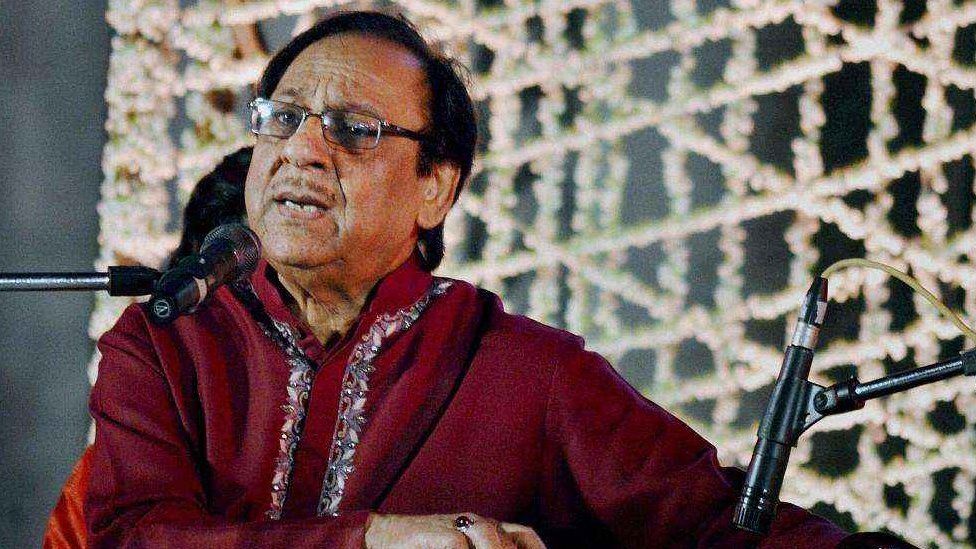 A concert by a Pakistani singer in the Indian city of Mumbai has been cancelled after protests by a ruling right-wing Hindu party.
The Shiv Sena had threatened to disrupt ghazal singer Ghulam Ali's performance on Friday.
The party says it will not allow any artiste from Pakistan to perform until the situation in Kashmir has improved.
India and Pakistan have recently accused each other of unprovoked firing along the disputed border.
A ceasefire agreed in 2003 remains in place, but the neighbours often accuse each other of violating it.
Mumbai is the the capital of western Maharashtra state, where the Hindu nationalist BJP rules in coalition with the Shiv Sena.
A recent assurance by Chief Minister Devendra Fadnavis that Ali was welcome to perform in Mumbai and that his government would give him "full protection" did not deter his ally from opposing the concert.
Ghulam Ali is popular in India and recently performed at a Hindu temple in the ancient city of Varanasi.
Prime Minister Narendra Modi has also said he is a fan.
"Ghulam Ali's programme has been cancelled. Neither Ghulam Ali nor any Pakistani artiste will be performing at the 9 October event," organiser Randhir Roy told reporters.
"Since the situation on the border is not conducive, it is not correct to call and promote any Pakistani singer."
The Shiv Sena was quoted by the Press Trust of India as saying on Wednesday that ceasefire violations "are taking place unabated and yesterday also four [Indian] soldiers were killed in firing by Pakistan which is continuing to sponsor terrorism in this country."
Ali said he was upset by the cancellation of the concert.
"I'm not angry but very hurt. I have always got love in India," he told NDTV news channel.
"The concert was a tribute for [deceased Indian ghazal singer] Jagjit Singh. He was like a brother to me," he said.
Pakistan High Commissioner Abdul Basit said he was disappointed by the development.
"We do encourage artistes to visit both sides and perform. As far as Pakistan is concerned, our policy is very constructive, very positive. When Indian artistes go to Pakistan, they do not come across such opposition," he said.
The news of the cancellation of Ali's concert featured prominently in Pakistani media, and evoked some comment.
A tweet by Shireen Mazari, a top leader of Imran Khan's right-of-the-centre PTI party, saying "Why do Pak artists insist on performing in India & suffering humiliation?" was retweeted more than 100 times.
Columnist Mehr Tarar said, "Ghulam Ali is arguably the best ghazal singer in the subcontinent. His music is for all, beyond borders, beyond differences. Why ban him?"