India, France sign Rafale agreement: Modi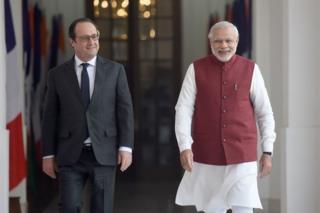 India has signed a deal with France to purchase 36 Rafale fighter jets, Indian Prime Minister Narendra Modi has said.
The announcement followed talks between Mr Modi and French President Francois Hollande in Delhi.
Mr Modi said the two countries would work to sort out financial issues over the defence deal, one of the world's largest.
Mr Hollande is in India for three days, and will be chief guest at Tuesday's Republic Day celebrations.
"We have completed an inter-governmental agreement for the purchase of 36 Rafales, with the exception of the financial aspects," Mr Modi said after meeting Mr Hollande.
India is looking to modernise its ageing Soviet-era military and the deal is the fruition of years of negotiation, with India intent on buying 126 jets in total for an estimated cost of $12bn (£8.2bn).
Mr Modi announced the purchase of 36 Rafale jets from France last April.
The two sides signed 13 agreements on Monday, including those on space co-operation, science and technology and the renovation of railway stations in India.
The Reuters news agency quoted Mr Hollande as saying that the two sides also hoped to conclude agreement within a year on a French nuclear company building six nuclear reactors for India.
The two leaders also discussed ways to increase security and intelligence co-operation.
"France and India are two great democracies... therefore we are prime targets for terrorists who cannot abide liberty, democracy or culture. We must therefore co-operate more on security," Mr Hollande said on Sunday.
On Monday, the two leaders were to lay a foundation stone at the new headquarters of the International Solar Alliance, a 121-nation group launched by Mr Modi at the Paris climate summit in November to expand affordable solar power.
Mr Hollande landed in the northern city of Chandigarh on Sunday where Mr Modi joined him at official engagements and lauded France's decision to invest $1bn every year in India in various sectors.