India Siachen avalanche soldier dies in Delhi hospital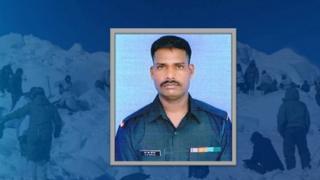 An Indian soldier who was found alive after being buried for six days in an avalanche on the Siachen glacier in Indian-administered Kashmir has died.
Lance Naik (Corporal) Hanamanthappa Koppad had been trapped under 8m of snow at a height of nearly 6,000m along with nine other soldiers who all died.
The soldier was suffering from severe hypothermia and pneumonia and had slipped into a coma.
The avalanche hit an army post on the glacier's northern side last Wednesday.
Koppad was rescued on Monday and airlifted to a hospital in Delhi.
Thursday morning's medical bulletin issued by the government said the soldier's pneumonia had worsened and a blood clotting problem was showing "no sign of reversal" despite treatment.
Tributes have been pouring in for the soldier on social media:
Siachen is patrolled by troops from both India and Pakistan, who dispute the region's sovereignty. It is also known as the world's highest battlefield.
Specialist army and air force teams launched a massive search operation for the missing soldiers close to the Line of Control that divides Indian and Pakistani-administered Kashmir.
Avalanches and landslides are common in the area during winter where temperatures can drop to -60C (-76F).