'Selfie point': Twitter reacts to Narendra Modi wax statue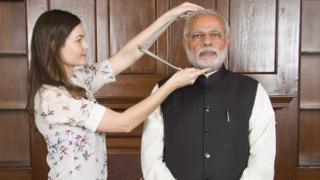 Madame Tussauds announced on Wednesday that a wax statue of Indian Prime Minister Narendra Modi would be unveiled in April.
The company said that the statue would allow guests to stand "shoulder to shoulder" with Mr Modi and even grab a selfie with him.
It added that Mr Modi had a "massive social media presence" and there was "intense public interest" in him.
Indian social media was quick to jump on the opportunity to poke some fun.
Many tweets addressed Mr Modi's legendary love for selfies, photo opportunities and cameras in general.
A video of him appearing to shove Facebook CEO Mark Zuckerberg out of the way for a photo opportunity while he was visiting the company head office, caused much hilarity in India.
So it was perhaps unsurprising that a lot of reaction tweets wondered if the wax statue would be as "camera ready" as Mr Modi:
Other tweets couldn't resist puns on "wax" and "expressions":
And what of Mr Modi's reaction?
"Madame Tussauds has crafted figures of very distinguished dignitaries from around the world - how could I regard myself worthy of being alongside them? But when I was informed that your decision had emanated from public opinion and public sentiment, I was comforted," he said in a statement released by the company.