India Mumbai blasts 'mastermind' sent to jail for life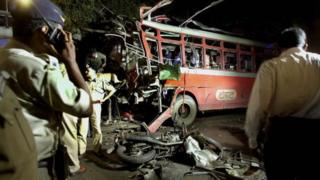 A man found guilty of masterminding a series of bomb blasts in Mumbai (Bombay) between 2002 and 2003 has been sent to jail for life.
Prosecutors had sought the death penalty for Muzammil Ansari, who was accused of planting explosives.
A special anti-terrorism court in Mumbai also found nine of the 13 accused guilty for their roles in the attack
The bomb blasts killed 12 people and seriously injured another 27.
Apart from Ansari, two of the others convicted of the blasts were sentenced to life in jail.
The others were sentenced to 10 years each, but will be released in two, since they have already been in jail for eight years, Indian media said.