India 'water train' brings relief to drought affected state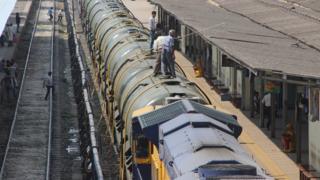 A train carrying half a million litres of water has been dispatched to the worst-affected areas of India's drought-hit western Maharashtra state.
The "water train" is pulling 10 tankers filled with water to Latur district.
Railway Minister Suresh Prabhu said the tankers, which usually carry oil products, had been steam cleaned.
Water in Latur is so scarce that officials have imposed prohibitory orders on gatherings of more than five people around water storage tanks.
Maharashtra Chief Minister Devendra Fadnavis tweeted that "more efforts" would be made to provide people in the areas with water.
The trains are being filled in Miraj district in western Maharashtra.