India drought: Boy drowns in Maharashtra well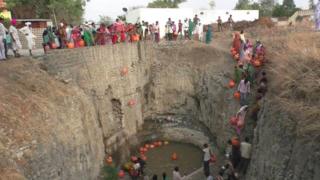 An 11-year-old boy has slipped into a deep well and drowned while fetching water in a drought-affected area in India's western state of Maharashtra.
TV pictures showed villagers pulling Sachin Kengar out of the well in Beed district on Thursday and trying unsuccessfully to revive him.
Earlier this week an 11-year-old girl died of heatstroke while collecting water from a village pump in Beed.
Some 330 million people are affected by the drought in India.
The government says nearly 256 districts across India, home to nearly a quarter of the population, have been hit.
Beed is one of the worst affected districts: half of its 1,403 villages are facing an acute water crisis.
Local journalist Manoj Satpute told the BBC that Kengar was trying to fetch water from a 60ft (18m) deep well in his village when he slipped and fell.
"We went to the spot and saw the boy's cycle and vessels [for carrying water] were still there. It appears he died of drowning after he fell into the well," police constable Dinakar Puri was quoted as saying by the NDTV news channel.
On Sunday, Yogita Desai, 11, died of heatstroke and dehydration after spending close to four hours in 42C temperatures gathering water from a village pump in Beed.
The pump was only 500m from her house, but a typical wait for water stretches into hours.
India is heavily dependent on monsoon rains, which have been poor for two years in a row.