Two killed in India border town police firing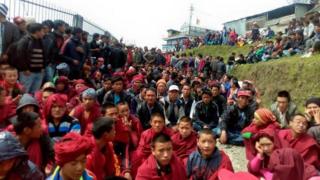 Authorities in the north-eastern Indian state of Arunachal Pradesh have ordered a magisterial inquiry after two people died in police firing.
Six others were injured when police fired on protestors demanding the release of an anti-dam activist in the border town of Tawang.
Peace meetings are being held in the area to restore calm.
The Himalayan state of Arunachal Pradesh lies on the Tibetan border and is claimed in part by China.
Police said they opened fire after they were attacked by protesters who tried to enter a police station in an attempt to free activist Lobsang Gyatso, who is also a monk, on Monday.
Reports say Mr Gyatso, who leads a movement against a hydro power project in the state, was arrested twice last month - once for "disturbing peace" during an anti-dam protest, and the second time for allegedly making "disparaging" comments against the abbot of the local monastery.
However, Moji Riba, a top aide of the state chief minister, told the BBC that Mr Gyatso had been arrested after making some allegations against the abbot "which had triggered public resentment".
Mr Riba said the monk's supporters were incensed after his bail plea was deferred to Wednesday.
"His supporters were demanding his release. There was a fracas between the police and the protesters," he said.
A 21-year-old monk is among the dead. The injured have been moved to a military hospital.
Vijay Taram, a prominent activist opposed to hydro power projects in the area, told the website scroll.in that the "government has used force on protesters, who were demanding the release of a known and vocal crusader against construction of hydro power projects in ecologically sensitive Tawang".