India fires: Rainfall douses deadly blazes in Uttarakhand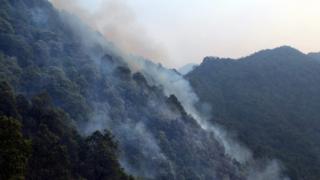 Rain in the northern Indian state of Uttarakhand has extinguished forest fires which killed at least six people and destroyed more than 1,900 hectares of woodland, officials say.
Fires in the state have persisted over the last four weeks despite the efforts of the army and air force.
But heavy showers over the last 48 hours have put nearly all of them out.
From mid-February, Uttarakhand has witnessed nearly 1,800 forest fires as temperatures soared across the country.
The Uttarakhand Department of Disaster Management said on Thursday that all fires had been extinguished in hill forestry areas of the state and there were now no fires in any of the state's 13 districts.
How India's 'tree hugger' is tackling forest fires
India battle to douse forest fires
The latest fires intensified in recent days with more than 400 burning simultaneously. Many people have been injured.
They did not hit Himalayan tourist towns, but villagers complained that smoke affected air quality and visibility.
Officials say the reason why fires have been so widespread this year is because the forest has been exceptionally dry as a result of low rainfall.
The fires come as India suffers one of its worst droughts in years. The government says 330 million are now affected by water shortages.
---
The Uttarakhand fires in numbers
1,218 separate fire incidents in the last month
427 simultaneous fires have burned since the weekend
1,900 hectares (4,700 acres) of forest destroyed
---
India's water crisis
Droughts in India as temperatures soar
Searching for water in drought-hit Latur
India's water refugees who live in cattle camps
'Avoid cooking from 9am to 6pm'
A lack of water and wives in India
Is India facing its worst-ever water crisis?
The Indians risking their lives for water
---